The Nung and Tu Si houses with traditional baked clay roof tiles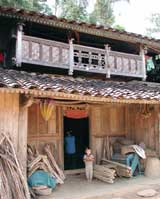 These wood-frame houses have become very rare.

The roof tiles are made of clay, baked at high temperature in wood kilns buried in the ground. After 5 days of baking, the still hot tiles are sprinkled with water. Those that do not break will protect the houses for a century at least. This technique, known as "rakou" tends to disappear because the hundreds of kilos of wood necessary to bake the tiles are hard to find. King Hoang A Tuong's palace in Bac Ha is covered in traditional clay tiles. Some can still be seen in the north of the Muong Khuong, Si Ma Cai and Bac Ha districts.