The Tay stilt houses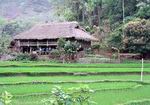 Made of strong durable wood (such as "iron wood" called Lime), these houses are built on stilts, with the traditional palm roof to keep the summer heat away.


They are often surrounded with balconies and open on all four sides to let the breeze in. Three thousand palms are necessary to cover an average-size house (8m x 12m). One single family does not own enough palm-trees to make a roof, so the whole village helps: relatives and neighbours bring their palms and their know-how, in return for which the family will provide food and alcohol for everyone until the roof is completed. The most beautiful stilt houses are found in the districts of Bao Yen, Bao Thang and Van Ban.