Travelling to Sapa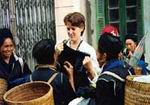 To get to Sapa, the most common routes are by train to Lao Cai and then mini bus, or by driving. The route to Sapa twists it's way around steep slopes and as the height increases the vegetation begins to change from the bright green familiar tropical varieties to a more alpine kind.


Along the route you can see small houses with children walking along the road to school, some of them carrying small plastic chairs to use when they get there. As you peek from the minibus you often pass groups of buffalo grazing and meandering across the road, small dogs lolling on verandas, and pack donkeys dolefully peering out from under their fringes as you pass.

Eventually people from the ethnic minorities who live in the Sapa region can be seen. Red Dao children and women sporting black/indigo tunics and leggings with black aprons, their heads covered with intricate red scarves or turbans, dripping with silver jewellery. Eventually, at 1,600m above sea level you reach Sapa.