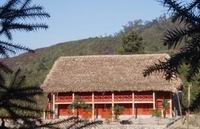 :
La Pan Tan Commune, Muong Khuong, Lao Cai province
The main lodge is located heartily in a lush valley, covered by green trees and terrace fields.

:
24 Dong Loi, Sa Pa Town
Ideally located on the quite side street, right on the heart of Sapa town - home of many colorful native hill tribes, within easy walking to Sapa market and the Church. The eye-catching Chau Long Sapa Hotel - New wing & Old wing offering tourist and visitors a magnificent views of Vietam's highest peak Mount Fan Si Pan.

Topas Eco Lodge is situated in the perfect location at two cone-shaped hills set deep in the spectacular Sapa valley of Northern Vietnam. Code words for our little place are simplicity, quality and character . Topas Eco Lodge has been built by local constructors and skilled local people. Staffing the Lodge with local people offers them opportunities for employment throughout the year. At Topas Eco Lodge we want every guest to have the perfect surroundings for a relaxing and enjoyable vacation. Whether you prefer the quiet life of the lodge or are prepared to join more active pursuits such as trekking, bicycling, or horseback riding trips in the local area - Topas Eco Lodge has something for you. Topas Eco Lodge is the only one of its kind in Vietnam. Offering accommodation to individuals as well as to larger groups of families friends or colleagues.
Sapa Hotel is a 3-star Hotel with up-to-date equipment and luxurious and perfect services. Its wonderful and romantic terrain - encompassed by a tranquil blue-watered lake in front and the stunningly splendid Hamrong mountain at the back - attracts a great deal of tourists coming to the town. Its outstanding French-style architecture harmonizes beautifully with the fascinating holiday resort discovered in the French colonial period.

:
Cat Cat Road, Cat cat village
Cat Cat Guesthouse is located near Ham Rong in Sapa town. Hotel has accommodation to suit all budgets. Double, twin and single rooms with private bathroom, hot water, telephone and television. Mosquito nets for use during the rainy season, and 'real' fires for those cold winter nights.